Page 4
---
To tweet or not to tweet that is the question?
---
Okay, it's time to take a look at our Twitter statistics and see how they reflect our push for all stakeholder engagement and how we have grown over the years.
The following stats were collected on 26 July 2019 and my hope is that as readers you will see how much of an impression we make on twitter as well as the fact we've grown substantially this last 18 months. Of course I believe that my choice to become an external advocate is one of the main reasons for such expansion, especially after our work with eyeforpharma, and the charities we support alongside the research activities and other projects that I am actively taking part in.
People share a beloved interest in what other people are doing, and supporting, no matter who they are, who they work for, what their beliefs, religions, or race are. Our twitter stats do give us such information but I have chosen not to include it in this report as there is just too much to include and requires it's own in-depth analysis away from this report. All you need to do is take a look at FibroFlutters followers list to see the fabulous connections from across all walks of life that we have made. It's not about how many, but who they are and that is how I can state quite firmly that we are reaching all-stakeholders. Personally, it is easier to ask you to check for yourself than to write about it. The link below takes you to @FibroFlutters on Twitter.
---
---
---
What's the last 6 months been like on @FibroFlutters – TWITTER
---
Taking a look now at the last six months of Twitter statistics leading up to 26 July 2019 to see if we are making an impact on different areas of the medical healthcare industries regarding #patient, #health, #research and #pharma advocacy.
The first thing I wish to say about July's Top Tweet and Top Media Tweet is THANK YOU to everyone for their support during the #WEGOHealthAwards nomination and endorsement periods. Thanks to you, both Top tweets are in relation to the awards and my nominations for Patient Healthcare Collaborator and Patient Hero.
---
---
July 2019 • 25 days so far…
TWEET HIGHLIGHTS
---
---
Top media Tweet earned 987 impressions
If you like the work that I do please support my #advocacy by endorsing me for the 8th Annual #WEGOHealthAwards Your support can help send me to Las Vegas to be featured on healthcare's biggest stage. Click here🛑awards.wegohealth.com/nominees/18133 🛑 #healthcare #chronicillness #patients pic.twitter.com/KUAxGMcrLV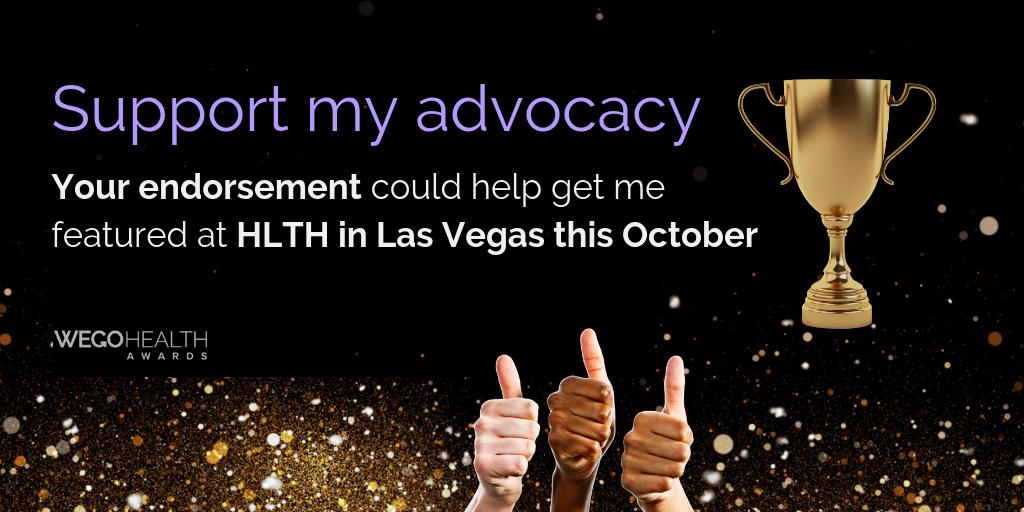 ---
---
---
Okay, so now let's look at the what the other stats for July 2019 (up to 26th only) tell us.
---
JULY 2019 SUMMARY – SO FAR!
---
---
---
---
---
---
---
June's Twitter stats 2019
June's Twitter stats show that we advocate for #fibromyalgia and our Mother host and #Charity FibromyalgiaAction UK as our top tweet was their #BecomeFibroAware campaign which we support.
In a bid to raise awareness of the condition and to #educate everyone necessary about the effects it has on sufferer's daily lives this #hashtag has become quite popular and still exists today as ongoing #campaign. Earning over 2000 impressions is amazing and that is just one of the campaign tweets made by us. No idea how many impressions in total that our campaign tweets have made as a whole but one thing for sure is that the stats for this tweet are a good indicator of a #successful campaign.
---
---
---
---
June 2019 • 30 days
TWEET HIGHLIGHTS
---
---
May's Twitter stats 2019
This month's figures show a lot of activity but it was International Fibromyalgia, Lupus and ME Day on May 12th. In fact throughout the whole of May there are varying awareness months and days, from different therapeutic areas, which is clearly reflected through the statistics below.
The top tweet of fellow advocate and #PatientLeader Ronny Allan's Nuzzel newsletter, there's Nuzzel again, is quite fabulous and reflects the fact that our audience don't just consider me, but our peers as well. Ronny work's hard with his awareness work to get Neuroendocrine cancer on the map and recognised for what it is, how it is treated, what it is often mistaken for and also discusses therapeutic treatments and research activities. He also goes out and get's involved at an external level by partnering with pharma, and such, on projects and trials, speaks at events and is a #WEGOHealthAwards winner. It's no secret to him that I admire him for what he does and we became twitter buddies in 2018. If you don't… you should follow him!
Making friends on twitter is easy, making connections is easy and despite what people say it is also possible to hold meaningful conversations with other tweeters.
During May every year a lot of talking on twitter happens as we try to raise #awareness of many #health conditions. You can see that our twittering made 133K impressions! chronicillness #patientadvocacy #advocacy #patients #fibro #eds

Tweet
---
---
May 2019 • 31 days
TWEET HIGHLIGHTS
---
Top Tweet earned 3,094 impressions
Read Ronny Allan's (@RonnyAllan1) May 18 Newsletter featuring "Neuroendocrine Cancer Nutrition Series Article 1 – Vitamin and Mineral Challenges" nzzl.us/u7io1PA
---
April's Twitter stats 2019
The top tweet for April this year was #research related in correlation to the #BSR19 event by the 'British Society for Rheumatology', which is the UK's leading specialist medical society for rheumatology and #musculoskeletal #healthprofessionals. This event for the UK in particular is one not to be missed and as a patient relaying back to our readership what was happening and supporting it was of huge importance. Why?, well because we are heavily #muscular #rheumatology based regarding our #advocacy work and #chronicillness because Muscular disorders and chronic pain are the main reason for sickness and work absenteeism in the UK, and across Europe as a whole.
It is a complex #therapeutic area which requires a lot of research as many disorders are #rare and not yet identifiable. There are over 300 disorders without a name, so when you think about it awareness is a necessity so is funding and increasing awareness of the importance of research to patients. These events are for professionals but if patients like me don't report about them then other #patients won't get to find out that research is essential and please can they get more involved.
So, April's figures reflect our advocacy in the amount of tweets made, profile visits and new followers. Impressions figure isn't as high as I'd have expected though, but I was away doing external advocacy work during this month for #chronicfatigue, locally at Newcastle, a #cocreated event that one of our Founders was on the Steering Committee for. Plus, I was still plagued with severe #chronic pain and ill health.
---
---
April 2019 • 30 days
TWEET HIGHLIGHTS
---
---
March Twitter stats 2019
Wow! It is unreal to see that one tweet made such a massive impression in March 2019. However, it is related to rheumatic and musculoskeletal healthcare of young adults and children, an area within chronic health that really needs to be highlighted. A friend and fellow advocate Simon Stones co-created a Twitter Chat – Word Day – that I actively took part in campaigning for and being involved in the event.
Raising awareness is one of our key aims as a group so taking part in doing it for the youth of our communities was really endearing and a great way to get the message out there. Hats of to Simon and co for such a wonderful new event. Looking forward to the next one!
You will notice a change in the figures, this is because I was away in Barcelona and also suffered ill health before I went for about 10 days so I didn't really do a great deal in March. Like I always say stats show easily where there have been periods of absence, maybe not why but the lower figures certainly tell / reflect that part of my story. Such as my article mentioned further up, 'The burdens of Pain Management…', which I wrote in March in response to my ill health and its impact on my every day life.
Crikey, I tweeted 342 times but didn't quite make 60K impressions, so you can see how inconsistent things can be. If you expect fluent figures you're in for a surprise because no-one can gauge what the audience will plump for and support. For instance just shy of 650 profile visits but only 25 new followers, it is impossible to predict outcomes! Look at February's stats and you will see that there were only 49 profile views but 75 new followers, how do we interpret that?!
---
---
---
March 2019 • 31 days
TWEET HIGHLIGHTS
---
---
What a great stat for impressions regarding this #pharma related tweet and the fact it was rated our top tweet for February 2019 is amazing.
The article by Paul Simms, Chairman of eyeforpharma, was of course in relation to the 'then' upcoming eyeforpharma Barcelona conference in March 2019, where I was participating, and an article that he mentioned me in. With that in mind it truly is a great feat!
Another great thing to notice is that although I only tweeted 21 times during February 2019 I still managed to make close to 67K impressions, and accrue 75 new followers too. It amazes me how this is possible, but it must be because like I tell people all the time… statistics don't lie!
---
---
---
February 2019 • 28 days
TWEET HIGHLIGHTS
---
---
---
Overall, I feel that Twitter has proved to be a great social media channel for networking and advocating. It is clear that we are 'flexibly' sat in amongst a diverse set of stakeholders from across the medical healthcare industries and our top tweets show results for health, patient, pharma and research based campaigns. Each month you can see what our top campaigns have been.
It is evident that we also make a superb impression via Twitter with a reach of 133K one month and 107K another. Of course I would be happy with consistency across each month by month, but am certainly not complaining at these spikes in numbers.
Twitter is clearly a great tool for us regarding advocacy and networking.
---
Page 4